ABOUT

ABOUT
New episodes drop every Tuesday!
WHY MOST THINGS KENOBI IS DIFFERENT FROM YOUR AVERAGE STAR WARS PODCAST
Most Things Kenobi the podcast brings a unique perspective to the Star Wars universe. The hosts, Lauren and LeeAnn, are two adult women with full time careers. They have been devoted Star Wars fans since they were little kids. They are both passionate writers and story tellers. They're both left brain/right brain: extremely creative people who also have very strong technical skills. Lauren has a background in marketing, film, and journalism. LeeAnn is a scientist.  Their unique friendship and fun personalities are what make Most Things Kenobi special. LeeAnn has the best laugh you've ever heard, is a self-proclaimed Anakin stan/Vader apologist, and wants to talk hockey with Dave Filoni. Lauren has an eye for the arts and wants to discuss Caravaggio's influence on Clone Wars' cinematography with Dave Filoni. We're ready for your call, Dave!
HOW MOST THINGS KENOBI GOT STARTED
Most Things Kenobi was started by Lauren in March of 2017. She had just finished watching Clone Wars for the first time and needed a place to dump all the feelings the show stirred up. She joined Tumblr and quickly found a community of like-minded people who LOVE Obi-Wan Kenobi, Clone Wars, and Luke Skywalker just as much as she does. She is amazed by her devoted following, touched by their enthusiasm, and humbled by their kindness. Time and again, her fan family has invigorated, supported, and uplifted her through good times and bad, and she is eternally grateful to them.
Most Things Kenobi grew in popularity due to Lauren's fan fictions, including The Jedi and His Duchess (a full length novel about Obi-Wan and Qui-Gon's time on Mandalore with young Satine–to be finished this year) and her Dark Side of Obi-Wan Kenobi series (a three part series about Obi-Wan turning to the Dark Side–also to be finished in the next year or so). She has numerous other stories that you can read on Archive of Our Own or Tumblr.
Other popular items on the blog are Lauren's critical analysis of cinematography,  her devoted and in-depth answers to followers' questions, and her extensive Obitine content.
HOW LAUREN AND LEEANN BECAME SPACE TWINS
Almost from the very beginning, Lauren had great interactions with a follower on the Most Things Kenobi Instagram. Someone named LeeAnn started leaving fantastic comments on her posts. After a few fun exchanges they started private messaging. Boom! Every star in the universe aligned! Lauren and LeeAnn instantly became best friends. They had everything in common…like…a spooky amount of stuff (especially a deep and abiding love for Obi-Wan Kenobi). It felt as though the universe intended them to meet at exactly that moment in space and time, and they began calling each other Space Twin. You can learn all about their amazing friendship and how the galaxy brought them together in Episode 1.
After spending years gushing about Obi-Wan via text, having epic Clone Wars watch parties, and exchanging enough Star Wars gifts to fill a small museum, LeeAnn and Lauren decided to take their love of a Galaxy Far, Far Away to the next level. They became a cliche…THEY STARTED A PODCAST! It was a natural step, especially considering the amount of time they already spent talking about Star Wars. They stuck microphones in front of their faces and the rest is history.
CONNECT WITH US
HAVE AN IDEA FOR AN EPISODE?
If you have an idea for an episode, feel free to shoot us a message on any of our social media platforms or by using the contact form on our Contact page.
WHERE ELSE CAN YOU LISTEN?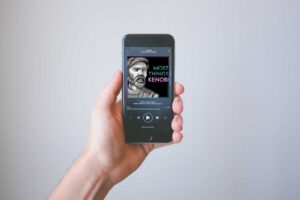 You'll always be able to listen to our most recent episode right here on our website. But if you want to listen on your favorite podcast player, you'll find a complete distribution list on our Where to Listen page.